Worship
We believe that the Bible is the inspired word of God and authoritative in matters of faith and morals. We interpret the Bible in light of the historic teachings of the Church; 'what has always, everywhere, and by all been believed'. In addition to the teaching and study of the Word of God, we place great value on the celebration of the sacraments ordained by Jesus to be both a memorial and a means of grace to His people.
We utilize the
1928 Book of Common Prayer
during our worship. This liturgy emphasizes our prayers and remembrance of Jesus Christ's work on our behalf should be guided by Holy Scripture.
All are welcome to attend our services, and we invite all baptized Christians to celebrate the sacrament of Holy Communion with us. We alternate Holy Communion and Morning Prayer services.
Services begin at 9:30 and are followed by a time of fellowship to enrich the body. We continue with an engaging Bible study or other means of discipleship to deepen the life of the Church.
Join Us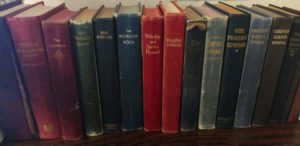 Sundays 9:30 a.m.
Holy Communion 2nd, 4th, & 5th Sundays
Morning Prayer 1st & 3rd Sundays
Fellowship & Discipleship following the service.